Interior Painting
Why Trim and Crown Molding is Right in Our Wheelhouse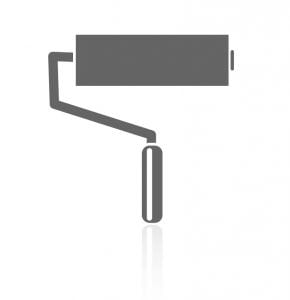 Interior painting has always been more than just slapping a few cans of Valspar on your living room walls. The amount of finishing that goes into the interior of any sort of structure, no matter if it's a residential home or a commercial business, is often a surprise to many who don't have the requisite knowledge or experience in home decoration and design.
That's why Franklin Painting and Restoration is your first, best choice for all interior renovation needs. Whether it's just providing your home with a fresh new look or if it's dealing with other interior design requirements like trim, crown molding, and the countless other little details that make a house into a home, we've got the skill and the experience for your next interior painting or decorating project.
Our Interior Painting Game is Strong
We take each and every project seriously here at Franklin Painting and Restoration. When you choose us, we show you how dedicated we are to our customers from the very beginning by sending one of our expert estimators to your project site. We'll listen to what you need, answer your questions, take exacting measurements, and then provide you with a detailed proposal that shows you comprehensively exactly what you want us to do, how we'll do it, and how much it will cost in real figures.
The planning process continues once we've scheduled your project to begin. You'll meet once again with the estimator as well as with your project supervisor to finalize plans and answer any of your lingering questions, revising your proposal if necessary. You'll also have the opportunity to meet with one of our talented color consultants if you have questions about design and decoration choices for your interior painting project so that you're satisfied with the plan.
What our Customers are Saying
Thanks very much for the great job you and your team have done for my house. All my family is happy for the outcome of the painting work. I will keep you as my 1st call if I need any work done on my house within your business scope. I will give my referral to anyone for your painting work. Hope more people in my neighborhood will be wisely to let you do the painting work for them.

---

Wenyan and Heiman NE, Portland

My kitchen is transformed!! I couldn't be happier, my kitchen looks brand new! You took my ugly dull oak cabinets and made them look bright and cheery. I loved all of your paint suggestions for colors, it looks so much brighter and clean now. Thank you, thank you, thank you. I will refer you over and over.

---

I wanted to take a moment to thank you and your guys for a job well done. Both me and my husband were very pleased with the work and professionalism of your business. Your guys were very prompt and considerate of my time, and that is very appreciated. Thank you is not said often enough, but I wanted to make sure I did not let this opportunity pass by. Should we need more work done in the future, you will be the first person we contact.

---

Marlon & Sharon, Oregon city
Putting Paint to Plaster
Once your project gets underway, our site supervisor will keep in contact with you to update you on our progress. Franklin Painting and Restoration's interior painting professionals work to a high standard of quality, refusing to compromise or cut corners. Our talented staff will ensure your job is done right, preparing your interior surfaces by:
Washing: The foundation of any new interior painting project is ensuring that you start with a clean canvas. We take pains to wash any walls that are about to get primed and painted to guarantee good aesthetics and proper paint adhesion.
Scraping: Walls with existing but damaged paint, or interiors that have had wallpaper applied to them at one time, can't simply be painted over. These interiors need to be scraped clean to provide the perfect base for new primer and paint.
Patching: We don't paint around blemishes and holes. If your interiors are damaged, we will expertly patch them with new drywall to ensure a smooth surface that will blend in seamlessly with your existing walls.
Sanding: Bumps and bubbles left over from previous patches or other damage aren't tolerated — not on our watch. Your walls will be smooth and clear before even a drop of paint hits them.
Drying: The last thing you want is a streaky primer or paint job because someone decided to apply paint before your walls have dried. Whether it's from patching or just from a good scrubbing, we won't begin work until your interiors are dry and ready.
Then, and only then, will your interiors be primed and painted. Once the project nears completion, you'll be asked to give it your final seal of approval. This provides you with the opportunity to check our work. We'll go back to the drawing board if we have to until we get it right.
Trim and Crown Molding: Well Beyond Just Paint
Freshly painted interior walls are certainly attractive, but they're just one facet of home design and decoration. Those final touches — trim like baseboards, crown molding, and others — are needed to finish the project, and Franklin Painting and Restoration knows our way around trim and crown molding like no other.
Our skilled craftsmen know trim inside and out. We have experience in installing baseboards, crown molding, and more — details like window casings, doorjambs, plinth blocks, wainscoting, chair rails, and ceiling medallions are all important design elements that we're able to provide you with, according to your own aesthetic vision.
The Icing on the Cake
What would interior painting job be complete without those final design touches? We offer even more, above and beyond interior trim and crown moldings, in the form of specialty faux finishes, interior wood staining, and floor coatings and sealers where needed.
If that wasn't enough, Franklin Painting and Restoration also provides the same TLC to the outside of your home that we do to the inside. From power washing exterior siding and staining decking to treat it against the elements to gutter cleaning, we can get the exterior of your home looking fresh and new to match your gleaming, renovated interior. We'll even clean those hard-to-reach windows for you — how many interior painting contractors will do that for you?
Your Local Interior Painting and Decoration Solution

We know you have a choice of many painting and renovation contractors. That's why Franklin Painting and Restoration is dedicated to standing head and shoulders above the best. We strive to provide you the quickest, most efficient, and highest quality painting, trim, repair, and maintenance services in the Oregon City, Happy Valley, and Clackamas region.
If you want the best, forget all the rest. When it comes to interior painting or decoration projects we're not satisfied until you're satisfied. Go with Franklin Painting and Restoration today and we'll make your interior design dreams into a reality.
Our Story
Franklin Painting & Restoration is a full-service painting contractor that specializes in high-quality interior and exterior painting on both residential and commercial properties, this company is well known for its quality of work and customer service approach.
All of our employees are quality painters. To this, we add our continual training to improve upon their technical skills. Company owner Jason Owens is a master painter with over 20 years of experience. Jason founded the company in 2002 and today still personally supervises each crew.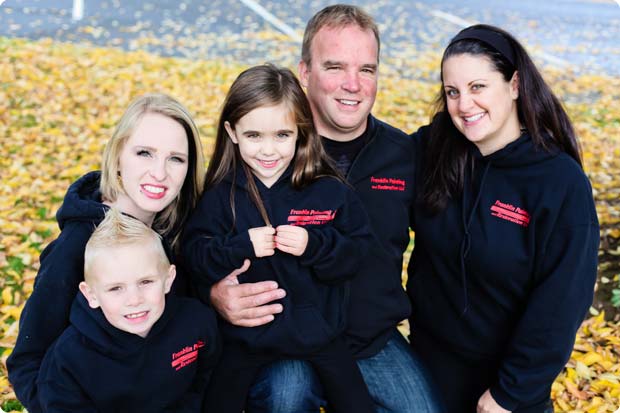 Drop Us a Line
Click Here for a FREE Estimate!